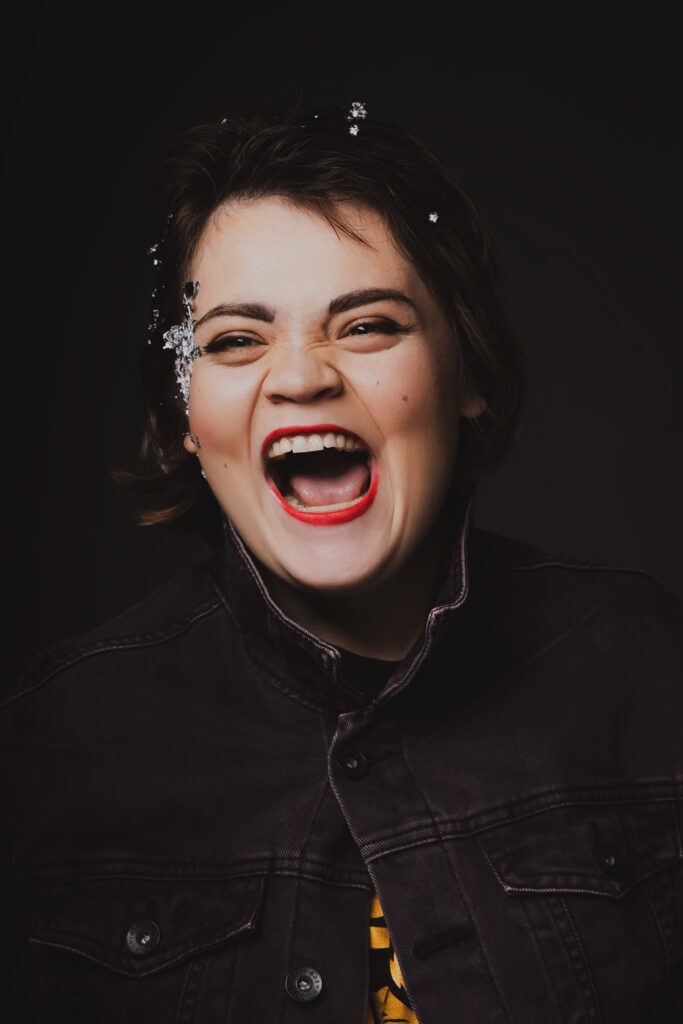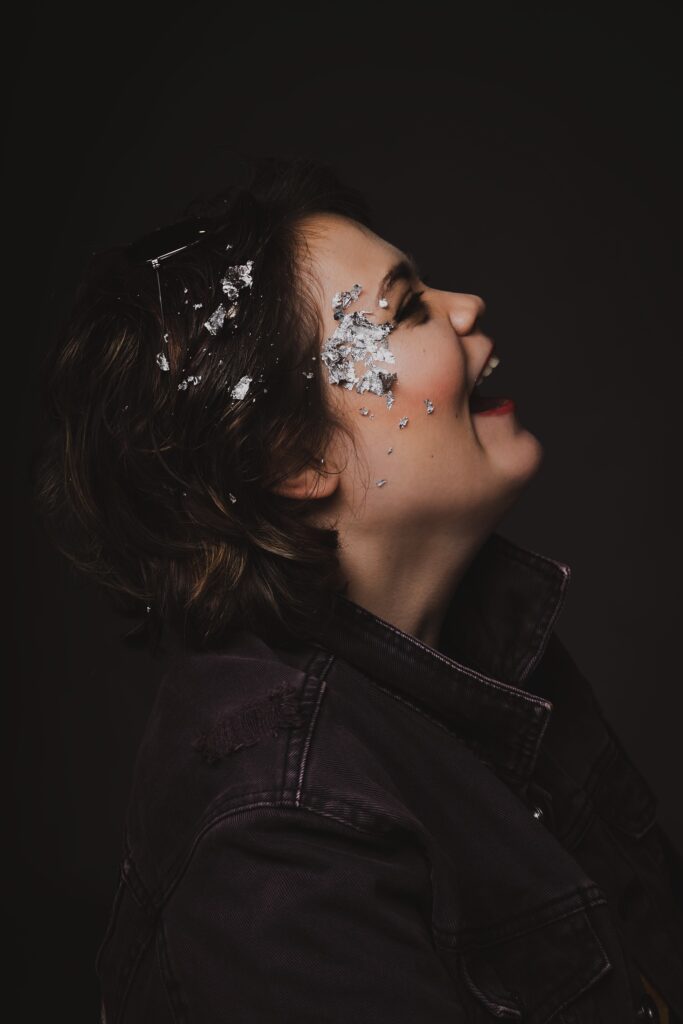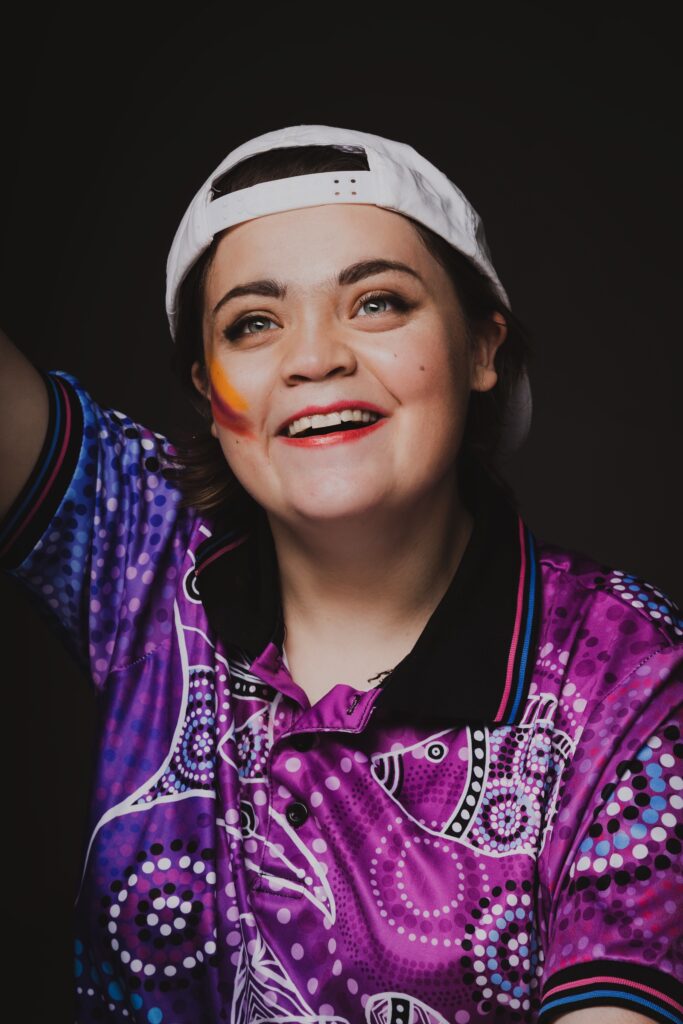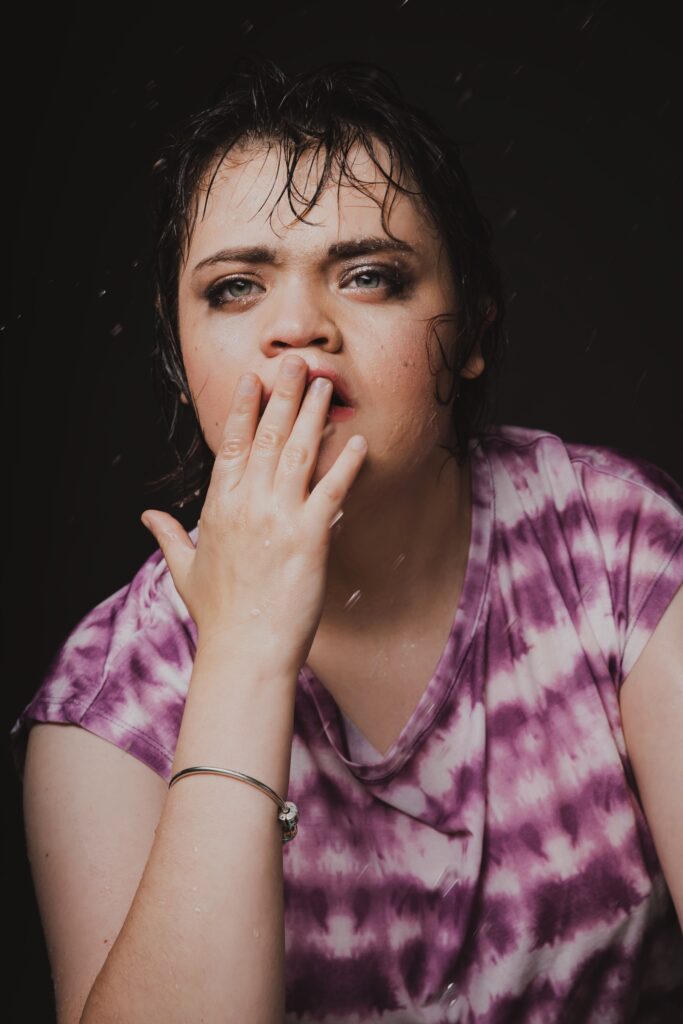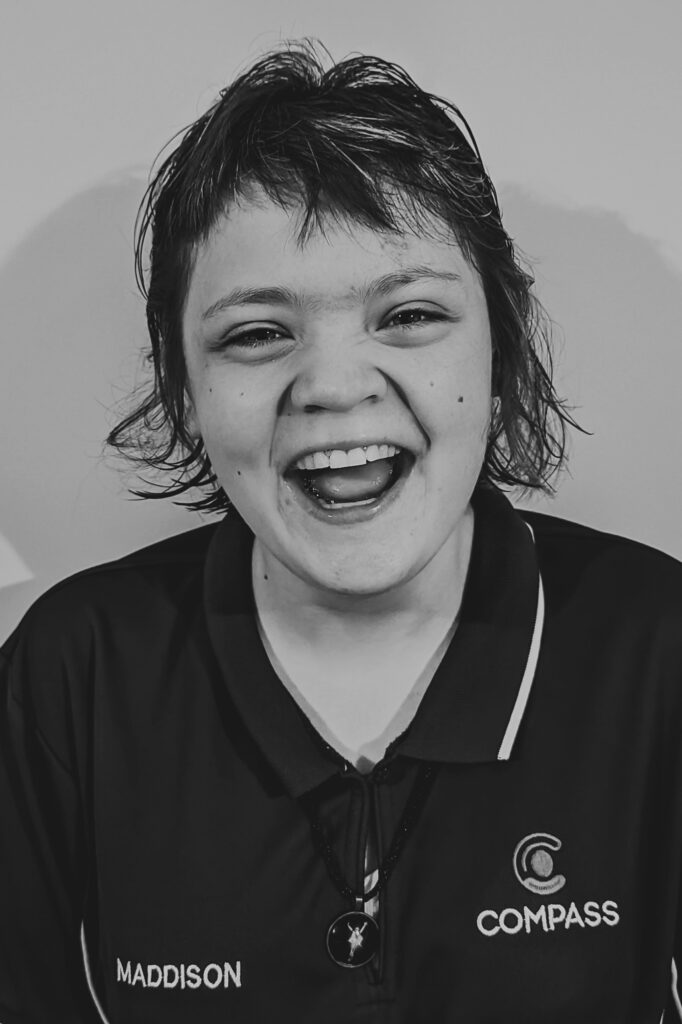 MADDI SHANNON
Age: 21
Compass Trainee since: 2019
You just want people to look beyond the surface and experience her for who she is.
Within moments of Maddi Shannon entering the photo studio, it was like someone had turned up the lights. Her spirit was so bright, and her smile filled the room. She was captivating. A star.
Being non-verbal presents no challenge to this young woman. Whether you have known her for years or just met her minutes ago, she has an ability to communicate with her whole being. She draws you in and then she releases you, lighting you up from within in the process. 
Maddi's mum Kelly is the first to agree that her daughter has another worldly ability to communicate with people without traditional channels. Having others acknowledge this, makes Kelly herself light up.
"You just want people to look beyond the surface and experience her for who she is," she says.
"People with disabilities get judged a lot for what they look like or their behaviour – that's what people remember. If you spend a day or a morning with Maddi, you'll see who she really is.
"She has a way of communicating without a voice. Her eye contact, her energy, everything about her. She just has something about her, something magical."
It's easy to fall in love with Maddi. She has a love of life, a great sense of humour, she's fun, spirited and she absolutely LOVES music and dancing. 
She's a massive Michael Jackson fan –one of the first buttons she presses on her communication device when asked about her passions and loves is: "Dancing and singing to MJ"! Just like half the world over, Maddi comes alive to a bit of Thriller, and it is with a moonwalk swagger that she works the camera. 
And whilst Maddi has always had this vibrant personality, life hasn't been without challenges.
Kelly opens up to share that a few years back, Maddi went through a really difficult time as she was experiencing a lot of change in her life.
"She started having big behaviours. In those moments, she was lashing out and it was just so hard," she emotionally admits. 
"This was a young lady who had been so beautiful all of her life, so sweet, and then suddenly it was like – what's happening?"
Change is challenging for all of us. There are often added layers for people with a disability who are non-verbal, as their inability to communicate their needs adequately during those times can lead to frustration and in turn behaviours that are deemed wrong, hurtful or inappropriate.
"For her to overcome such a big hurdle and for us to do that with the support of Compass and everyone else, was huge," says Kelly.
"I'm proud of her and how far she's come, and the team, because everyone understands her better now too. She can now communicate better even though she doesn't have a voice. We're all on the same page and she knows she's supported, which has made a huge difference."
Kelly's pride for her daughter shines through so brightly. And when pressed on what she is most proud of, she gets very emotional.
"I'm just proud of who she is," she says through tears.
"When she was born, I was emotional after finding out her diagnosis. It was so hard. My father made a comment to me that just completely shifted my perspective, which was about trying to put myself in Maddi's shoes. He was so right.
"Every day, Maddi never gives up. She takes things on with such joy, she lights up people's lives… she's an inspiration and a shining star.
"We think we have problems… she just really gives you perspective every day."
This couldn't be truer and is one of the things that comes up most often as a comment from our Support Trainers at Compass, it's one of the reasons why they love their jobs so much. It's about how much being with the Trainees lights up their own lives and gives them perspective and purpose on a day-to-day basis. 
There is a secret superpower innate in people with disabilities that people don't often realise. At our Gympie Campus, which is where Maddi attends, Team Leader Hiedi reflects on this and shares her perspective.
"There is joy in every day – at some point in every single day, there is joy," she says.
"People say to me, 'I couldn't do your job'. And I say back to them, 'Well you're missing out!'. Every person here is an individual. You connect deeper with each one – and it's brutal honesty, which is confronting but also refreshing.
"There is no hiding of who they are. This is me; this is who I am. You skip the façade, and you get to know someone truly for who they are.
"Who wouldn't want that opportunity each day?"
When discussing how important it is to dream and to not limit our perspectives Kelly is open about her personal wishes for Maddi.
"I dream that she will never be without, and that she will always have people by her side who love and care for her.
"And I dream that SHE will never stop dreaming, and that she'll continue to reach for the stars. She can do so much if she doesn't give up – and if people don't give up on her."
Maddi's story could be the story of a thousand others – with and without a disability – that if we just shift our perspectives a little and SEE each other, if we don't give up on each other and instead encourage one another, together we can ALL shine.
This story was written by Compass team member, Sandra Brodie, through interviews and contributions from Maddi's Mum Kelly, and Maddi herself through her assistive speech technology, as well as some of Maddi's support trainers at Compass. 
Back to all trainees